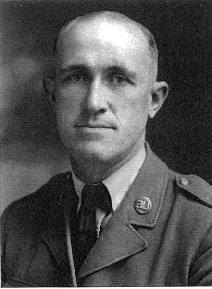 Aubrey B.T. Wright, was born in Humphreys County TN, 11 Jan.1890. He graduated from Branham and Hughes Academy, Spring Hill in 1908 and later received his law degree from Cumberland University.
He entered the U.S. Army in 1915 at Jefferson Barracks. He saw service under General John J. Pershing, at Ft. Bliss, TX, when Pancho Villa was raiding the U.S. border. Wright graduated from OCS and served as an officer in France during World War I. After WWI he accepted reduction in rank in order to stay on active duty.
About 1921 he was assigned to the Detached Enlisted Men's List for ROTC instructors. Those posts were Castle Heights Military Academy, Columbia Military Academy (18-1/2 years), Memphis City Schools ROTC and Marion Military Institute. Marion, AL (1942 - 1945), when he retired after thirty years service.
During the Depression the operating body of the Academy failed financially and Sgt. Wright accompanied the CMA students when they were transferred to Castle Heights to finish their school year. The Department of the Army required the military property be maintained and secured. While military instructor from 1921 to 1945, Sgt. Wright patented a remote target changing device which insured the safety of the young men whom he instructed on the rifle range at CMA.

He was the father of Colonel William J. Wright, USAF (CMA Graduate-1937, PG-1938) and grandfather of Rebecca Algood Moon (CMA Grad. 1975, who entered CMA in 1969, the first year girls were allowed), the father-in-law of a battalion commander, John Robert "Bill" Hartley (CMA Grad. 1941, PG-1942) and later the father-in-law of a Professor of Military Science and Tactics, Lt. Co. Ruben Clark Algood, USA (CMA faculty 1951 - 1954).

Known to everyone as Sergeant Wright, he took great pride in his chosen profession and his nation. He loved Columbia Military Academy deeply and treasured its traditions, its faculty and its students. He died on 3 Feb. 1983 at ninety three years of age.