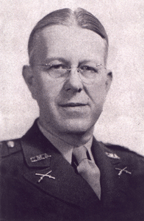 C.A. Ragsdale graduated from Branham and Hughes Military Academy in 1911 and attended Vanderbilt University where he graduated in 1915. His accomplishments as a student at Vanderbilt University included winning a prize in Latin and Greek in 1911, the Mathematics Medal in 1912 and the Founders Medal for highest honors in the Academic Department in 1915. Upon graduation and the completion of post graduate work at Vanderbilt, he returned to Branham and Hughes Military Academy and served there as an administrative officer for fifteen years before coming to Columbia Military Academy.


Colonel Ragsdale applied to join the CMA faculty in 1931 and did so as the President of the school, a position he held for 31 years. Colonel Ragsdale launched the most successful years of Columbia Military Academy, solidifying a faculty that included such notable members as William O. Batts, Thomas R. Fishburne, J.B. Gracy, Clyde Wilhoite, E. Blythe Hatcher, W.D. Prickett, John B. Thomas, Earnest P. Hart, Thomas G. Jones and Earl G. Sparkman. Members of the faculty that Colonel Ragsdale put in place were instrumental in leading CMA from the early 1930s until the 1970s.


Colonel Ragsdale devoted his life to shaping the minds and characters of young men. During his time at CMA he endeavored to maintain high standards of scholarship and stern, though just, discipline. He constantly strived to instill in the cadets an awareness of the importance of the development of scholarship and good character in preparation for a successful and useful life. He exerted a lasting influence on the life of every student that attended CMA during his tenure.


Colonel Ragsdale retired as President of CMA in 1962 but remained with the school as President Emeritus until 1964, thus serving the cadets at Columbia Military Academy for thirty-three years. His influence on cadets is remembered to this day; the impact he had on CMA and the legacy he left behind were unparalleled.


"Of high ideals and virtue was his speech; And gladly would he learn, and gladly teach." Geoffrey Chaucer, Fourteenth Century.